Start Solar provide best offers in solar panel system.
Electricity prices are rising and pose a significant obstacle for any business. Installing a Start Solar power system presents the solution by reducing the expenditure on electricity dramatically allowing your company to save money for other business imperatives. Since solar energy is a renewable and environment friendly source of energy, it makes good business sense to include it as part of your company's sustainability endeavour. It is clear that there are many benefits of solar for companies and our experts can help you to choose the best system for your business.
MONOCRYSTALLINE VS MULTICRYSTALLINE SOLAR PANELS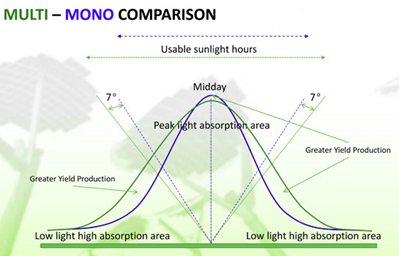 Best for cloudy weather e.g., Melbourne, Tasmania, etc.
Up to 7% greater low light absorption
Advance 3 Bus Bar Technology – produces 5% greater electricity yield
3/6 Diodes Parallel Arranged
More potent cells
Best for sunny weather e.g., Queensland, etc
More cost efficient
No Bus Bar to balance power, Low Cell efficiency
Best suited for Sunny weather e.g., Queensland, Perth etc.
3 Diode Parallel Arranged
View FAQs section to resolve your problem.